Resursportalen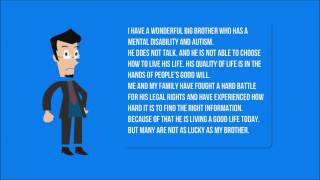 Visit our website: www.resursportalen.com
---
Fritidsinfo
I am proudly a founder, content creative manager and a part of Fritidsinfo.se.
About Fritidisinfo.se
Fritidsinfo.se is an innovative and successful proven web service which offers and organizes a huge database of information about free time activities, happenings, events and culture etc. addressed to people with a mental or physical disability.
Fritidsinfo.se´s search engine includes diagnoses as for example autism and Asperger, vision impairment and hearing loss and available for everyone to use for free. Because we believe in including rather than excluding.
Fritidsinfo.se is also a place, for members where they can share their own experiences, photos, rate products, read interesting journalistic reportage and articles etc.
Fritidsinfo.se is a nonprofit organization based in Sweden. If you are interested in starting your own Fritidsinfo.se  in your country give us a call and we will gladly to help you out.
"We believe in a world were quality is given, that every human being should nurse the right to have an active and meaningful free time, and that it should be available for everyone regardless to functionality or life condition"